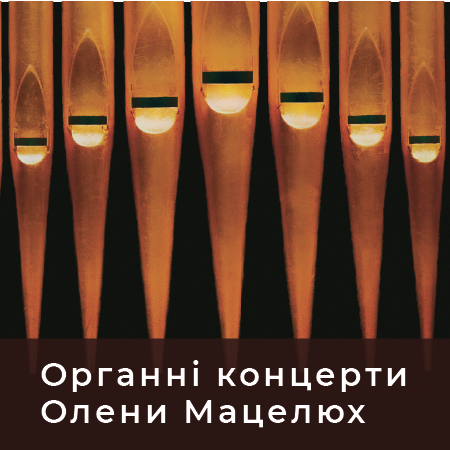 Concert
Christmas Bells. Organ
Date and time
13 January 2019, Sunday 19:00
Bells, bells, bells ... Their melodic singing is a special attribute of Christmas and holidays! In the performance of Olena Matselyukh, there will be performed virtuosic organ pieces in which the composers "taught" the organ to sing as hundreds of Christmas bells to all voices.
Olena Matselyukh - organ
Cr. Pardini - "Amazing Grace"

Jan Podbielski - Toccata "Bells"

W. Byrd - Toccata "Bells"

O. Messiaen - Toccata "Dieu Parmi Nous"

F. Liszt - Prayer

A. Mayi - Toccata "Christmas Bells"

B. Kotyuk - "Tet-a-tet", "Heaven and Earth"

L. Boellmann - Toccata from "Gothic Suite"

Gr. Macchia - Toccata "Bells of the Bethlehem"

J.S. Bach - Toccata and Fugue in d-moll
Buy tickets:

- Organ Hall Ticket Office, Every day, 13:00-19:00

Age restrictions +7
Questions? - Call us: 098 871 0180
#оргзал