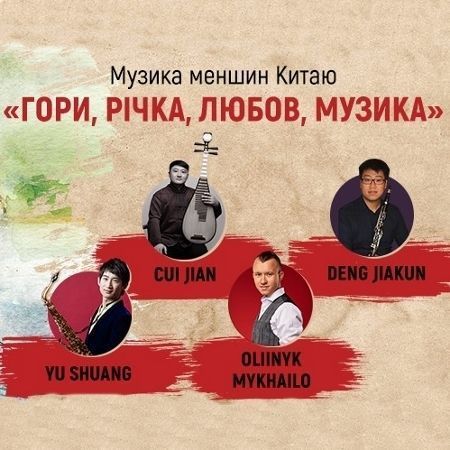 Concert
"Mountains, River, Love, Music
Date and time
20 October 2018, Saturday 19:00
"Mountains, River, Love, Music" is a unique concert with China music. Most of the pieces will be present in Ukraine for the first time!
Beautiful music depicts the nature and the life of the uncharted corners of China. At the concert there will be an ancient Chinese instrument Pippa, which for more than two thousand years had accompanied the solemn ceremony in the imperial palaces.Performer on the Pippa - Cui Jian - one of the most famous musicians in China, author of scientific works and a teacher. Separate works from his repertoire are transmitted only from the master to the master for centuries.
Also in the concert will take part:Deng Jiakun (clarinet) and Yu Shuang (saxophone), who have been living and studying for a long time in Ukraine.
Another headliner of the event will be Mykhailo Oliinyk, a well-known pianist and composer. He collaborates with Chinese musicians and as no one else deeply feels all the uniqueness of this music.
Laureates of international competitions Galina Radchenko, Anna Shevchuk, Natalia Vakula will accompany Chinese musicians.

Duration: more than an hour
Tickets are available:

- in the box office of Organ Hall daily from 1 p.m. till 7 p.m.