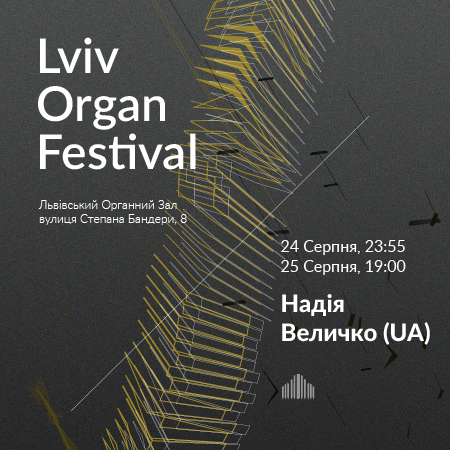 Concert
Festival
Organ music of Bohemia
Date and time
25 August 2018, Saturday 19:00
This summer, Lviv will be home to organists from all over the world for two weeks. From August 13 to August 26, the Organ Hall will host the 8th Lviv Organ Festival. 13 concerts, master classes and hours of good music!

"I'll get on the train, let it go, maybe in Prague ..." To make a trip in the magic train of music to Prague invites the organist Nadiya Velychko. She prepared an exquisite concert from the compositions of Bohemia (former unofficial name of the Czech Republic) in the seventeenth and eighteenth centuries, when the composer Jiří Benda laid the groundwork for what Mozart's operas would be, and Karl Pitsch taught Antonin Dvořák to play organ.Along with the music of prominent Czech organists, such as Černohorský, Brixi, works by Zakh, Kukhar, Link, which are almost unknown to us, will sound.
The train to the musical Bohemia will depart on July 4th at 7:00 pm, do not be too late!
Nadiya Velychko - organ
B. Černohorský, - Toccata

J. Linkа - Preamble c-moll

F. Brixi - Fugue c-moll

F.Brixi - Toccata a-moll

J. Kukhar - Fantasy g-moll

J. Zakh - Prelude and Fugue c-moll

A. Rejcha - Fugetta G Dur

J. Benda - Sonatina
K. Pitsch - Fuga E Flat Dur

Tickets are available:
- Organ Hall Ticket Office, Every day, 13:00-19:00
Age restrictions +7
Questions? - Call us: 098 871 0180
#оргзал