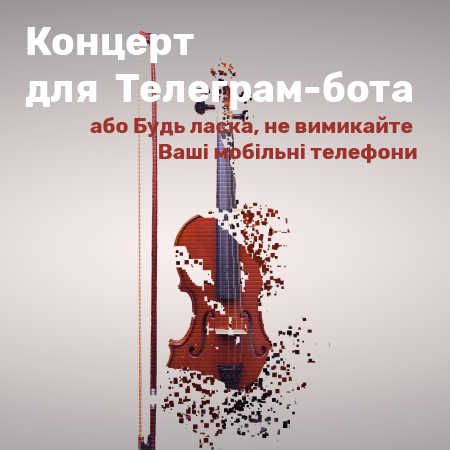 Concert
Telegram-bot Concerto
Date and time
21 October 2018, Sunday 19:00
Have you ever been to a concert where the listener is still a direct participant in the musical performance? We invite to a special author's project of violinist and composer Alexander Pilchen, which will allow conducting experiments on sound in real time.Every visitor to the concert will be able to lead the orchestra as a DJ on the mixer, says Alexander. "Together, we will be co-authors of music." Technically, all this will happen with the help of Telegram-bot, so everyone who comes to the concert needs to have Telegram on their smartphones.
Alexander Pilchen organically combines the love of ancient music with a fascination to modern. He began to learn to play the violin at the Specialized Music School by Stolyarsky in Odessa, then moved to Moscow, where he studied first at the Central Music School, and then at the Tchaikovsky Moscow State Conservatory, graduated from the faculty of historical and contemporary performing. He perfected his violin mastery in Norway, studying at the Conservatory of the University of Tromso and attending numerous master classes on historically informed performances. He is currently studying in Germany, Musikhochschule Trossingen, and is engaged in concert activities.He is studying composition from the age of 9. He not afraid to experiment and seek new opportunities for the perception of music. This project for Pilchen-composer is the first and definitely unique for Lviv!
Dive into the modern music world soon! Do not forget your mobile phones ;)
"Concerto for Ensemble, Public and Telegram-bot or Please Do not Turn Off Your Mobile Phones"
Alexander Pilchen - violin, composer (Germany - Ukraine)


Tickets are available:
- in the box office of Organ Hall daily from 1 p.m. till 7 p.m.

(age restriction: 7+)
For additional info call: 098 871 0180